Earth Restored
New eCommerce website for an exciting eco-friendly company on an important mission.
The
Challenge
Earth Restored are an exciting new company on an important environmentally friendly mission. One of the biggest issues our planet faces is climate change, and one of the major contributors to climate change is the millions of tonnes of unnecessary waste generated by the UK food industry every year. Earth Restored's ethically-sourced, compostable and recyclable food packaging and tableware is a stylish solution to that problem, and they asked us to create a clean and efficient eCommerce website that would represent that ethos and take their message to the world.
To accomplish that goal, Earth Restored wanted a website that was attractive, streamlined, and easily navigable. Because they were launching with two major brands – one aimed at the domestic market, the other aimed at commercial food retailers – the website design had to meet the needs of both audiences while keeping the overall theme and messaging uncluttered and homogenous. It had to be a perfect showcase for all their products and provide an eCommerce experience that was familiar and straightforward for their customers to order. They also wanted a site that was future-proof and could grow and evolve in step with their business.
Earth Restored want to reach eco-conscious consumers and businesses who are as concerned about climate change, food waste, and plastic pollution as they are. They also want to attract people who might never have thought deeply about that subject before. As a result, the website design needed to be fresh and informative, but it also had to keep Earth Restored's products at the forefront of everything.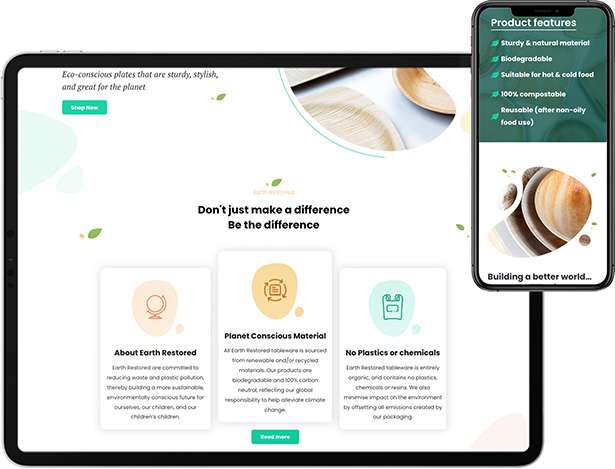 We created a website design that has a minimal but natural colour palette and is bright, airy, and uncomplicated, with graphics that are fun and modern and showcase the products in an organic way. Visitors to the site can quickly find what they're looking for, each brand has an easy-to-read breakdown beneath each product and a one-click interface that makes selecting the product and paying for it at the checkout quick and easy.
For visitors who want to browse and find out more about the company and their eco-friendly philosophy, our website copywriters ensured that Earth Restored's message was as clear, concise, and engaging as possible. We also created a blog page on the website so that Earth Restored can enhance their brand with regular updates, news stories, and opinion pieces.
Last but not least, we optimised the UX & UI so the website looks and functions flawlessly on every platform, and Earth Restored's visitors will always have an enjoyable, professional shopping experience regardless of the device they are using. Earth Restored want to make sustainability and recyclability attractive and effortless for everybody, and we wanted to make sure their website reflected that too.