Why it pays to have professional website design
by Jason 02 July, 2022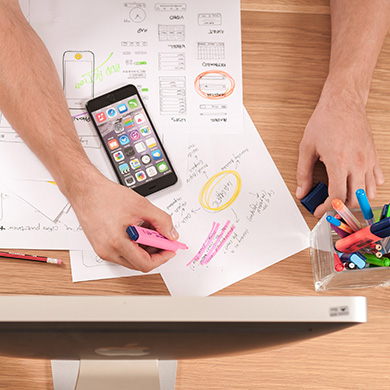 Even the smallest business should have a website. Websites are the portal to your company, the place that you share your vision and a way to advertise your product or services. Therefore, it comes as no surprise that a website should be perfectly designed if it is going to help you to succeed.
There are a variety of different platforms that allow you to create a website yourself, and while these may be okay for a make-shift, temporary solution; if you are looking for quality long-term solution, you may need to consider a professional website design company.
Money is always a concern for businesses, and especially when it comes to allocating money to a marketing budget, which means you need to be sure that the product you receive is worth every penny.
We have put together the top reasons why we believe it pays to have a professional company design and build your new website.
The website will suit your business
One of the main issues with an off the shelf (or virtual shelf) approach to making a website is that it often it will be "one size fits all", unless you have the technical knowledge to make backend alterations. If you opt for a professional website design service, then you will be given a website that is designed and built to achieve your goals. They will listen to what you need and expect from your website, and creates something that is fit for purpose.
It will look great
Not only adept at the background stuff, website design companies know how to make sure a website has great design too! A website custom designed to your brief is going to provide a better user experience for your website visitors, and these visitors may just become your next customer.
They can give you advice on SEO
Another important part of any website is that it meets SEO requirements. A website design company will be able to advise you on how to best use SEO and make sure that it is going to be ranked on search engines. Whilst they may not be experts in this particular aspect of digital marketing, they will at least be able to guide you towards the right places to look.
Support when you need it
A good website design company will not finish working with you just because a website is completed. They will offer a support service too, helping you if any future issues crop up, and making sure that they are fixed as quickly as possible, as well as assisting you with growing your website as your business grows too. For example, we have clients on retainers so they know they have guaranteed hours with us each and every month, as well as clients who come to us for ad-hoc updates, so whatever your situation, we can work to your needs.

Here at JMJ Digital we are proud to be a specialist digital agency in Norwich. We have worked hard to ensure that our customers in Norfolk and the rest of the UK have the very best service possible, and are confident we are on hand for any support they need for their web design and digital marketing.
If you need a digital marketing service, why not get in touch with us today? With our help you can have the website that your business needs and deserves.