Greentrees Caravanstore
Comprehensive brochure and eCommerce website for leading caravan and motorhome dealers.
The
Challenge
Our long-standing client Greentrees came to us for a complete overhaul of their digital shopfront, ten years after we'd built their first-ever website. While the original site had served them well, they wanted to go further – developing a website with multi-level functionality for their customers and the Greentrees team.
As one of the UK's leading caravan and motorhome sellers, Greentrees required its website development to meet several vital criteria. The new site needed to be modern, provide an excellent user experience, showcase their wide variety of new and used caravans and motorhomes with an easy way to enquire, and built with WordPress and WooCommerce for easy website and shop management.
Given the complexity of what Greentrees needed, we knew this would be our biggest development challenge to date – but Team JMJ couldn't wait to get started.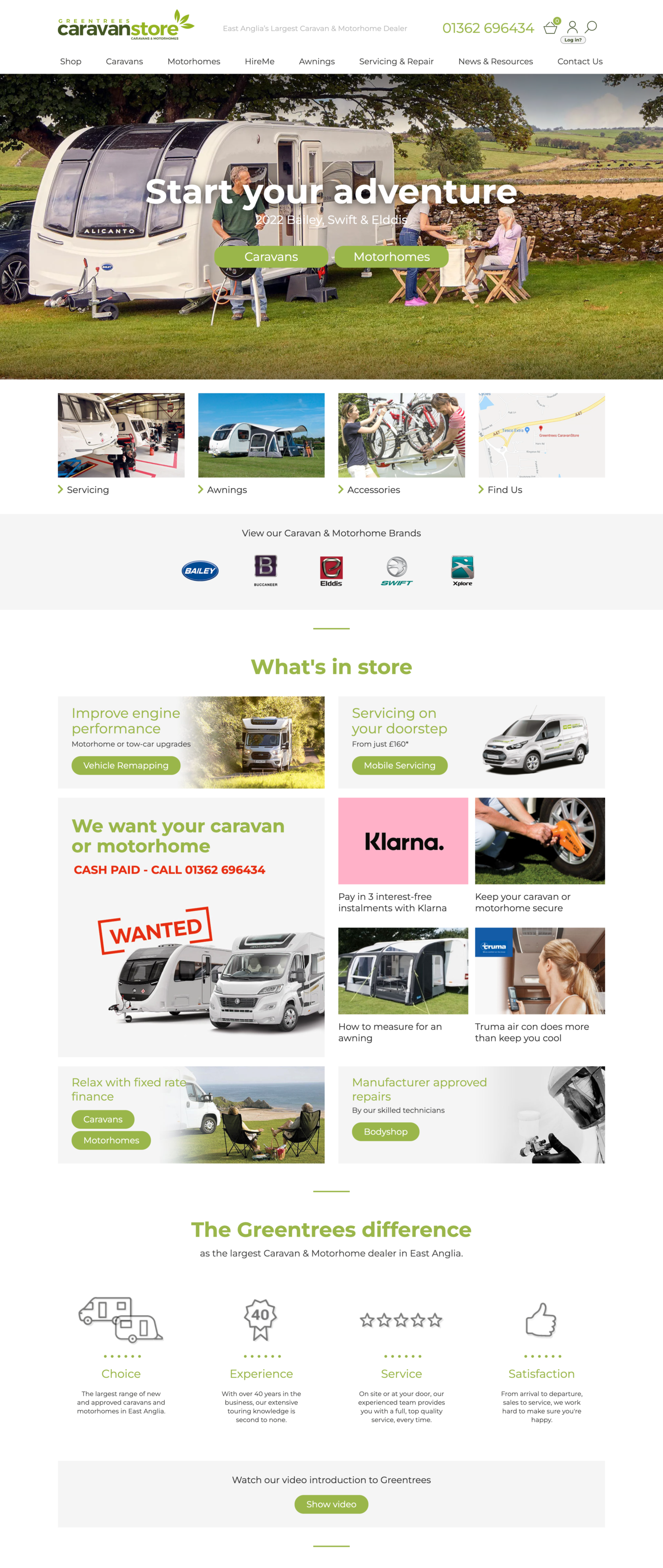 The Greentrees brand is all about the fun and adventure of holidaying in caravans and motorhomes, so the website needed to look and feel just as exciting.
We went for a clean, streamlined website design, that helped visitors find exactly what they were looking for quickly. For users with time on their hands, the website is perfect for browsing around and presents detailed information clearly. Nailing the UX was critical, as was ensuring that the website works as well on mobile and tablets as it does on desktop.
At the back end of the site, the bespoke CMS needed to handle data entry for Greentrees' motorhome and caravan sales. Given that they sell lots of different products, it was essential to create multiple enquiry forms across the site and provide an easy way for the team to access and process those enquiries.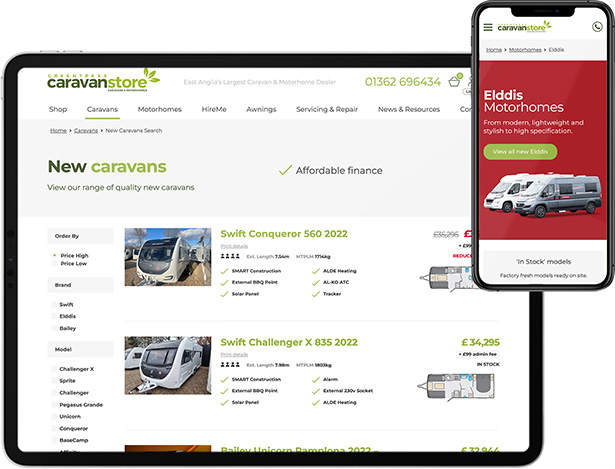 The eCommerce aspect of the new website development was the biggest challenge. It needed to showcase every product perfectly, provide multi-layered user levels and guide customers to the checkout seamlessly.
When you are selling motorhomes and caravans, the process of buying is more complicated than just adding your pick to the basket and checking out. So, for these big-ticket items, the website needed to enable Greentrees to set up 'appointments to view' via online bookings or guide customers to make a call to book in.
The new Greentrees website caters for all those needs, looks great on all devices, is easy to navigate and demonstrates their expertise on every page. Organic traffic is supported by our Pay Per Click Advertising services through a variety of strategies.
Finding people who are capable AND flexible enough to work with was a tough job but after working with Jason for over 10 years now we can highly recommend his dependable, diligent and reliable approach to digital media marketing.