Shoot the HiPPO
New e-learning website for online digital marketing course.
The
Challenge
Shoot the HiPPO is a digital marketing course created and delivered by Footprint Digital. It aims to give budding marketers all the practical tools and knowledge to build successful careers or expand their careers in new directions. Before Coronavirus hit in 2020, Shoot the HiPPO was a popular course that the Shoot the HiPPO team delivered in person. After Coronavirus arrived, that all changed. As a result, Footprint Digital asked us to build a website that was an online version of their entire course, incorporating all their extensive tried and trusted material, giving users seamless access to everything they need wherever they are in the world.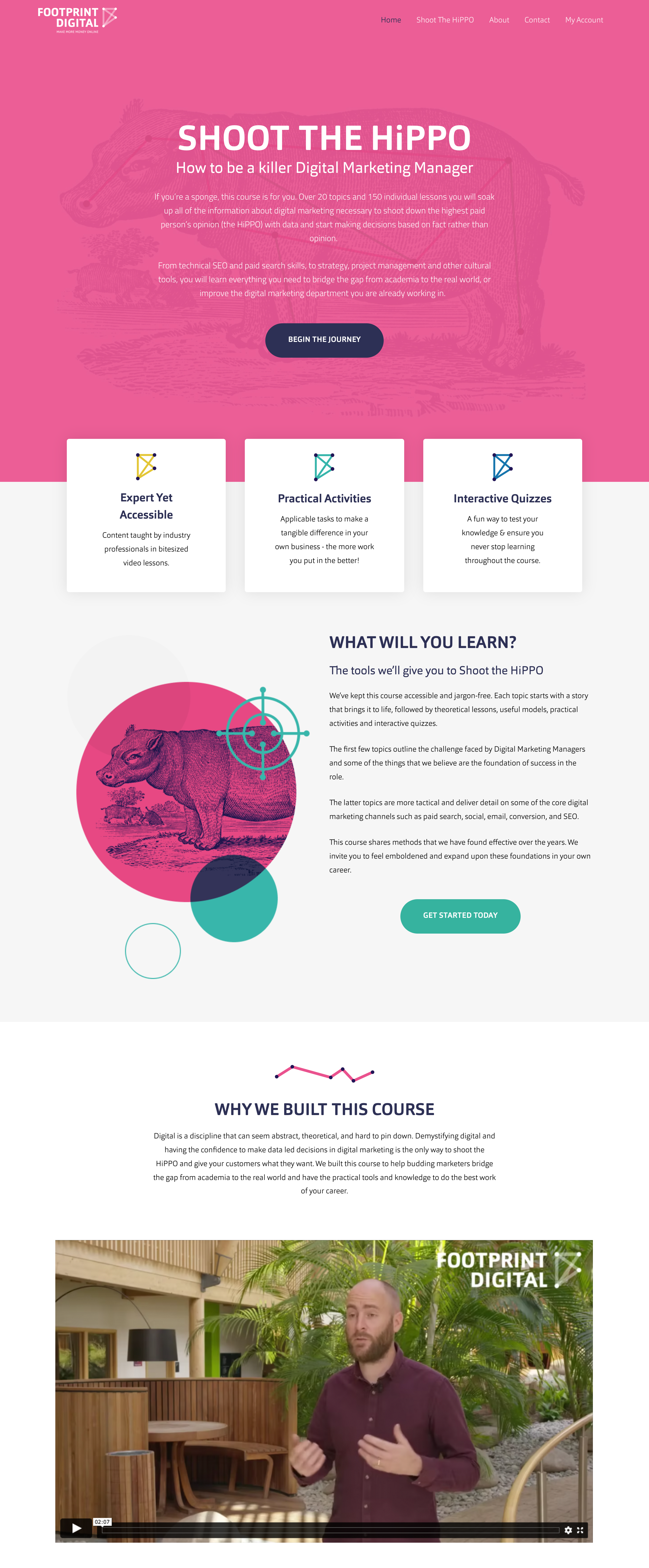 We gave Shoot the HiPPO a funky, feature-packed WordPress website that's both an engaging and eye-catching showcase for their work and a comprehensive, easy to navigate learning platform. It's an excellent example of the kind of website we've created for many of our education-focused clients, whether they are selling courses or just handing out essential knowledge.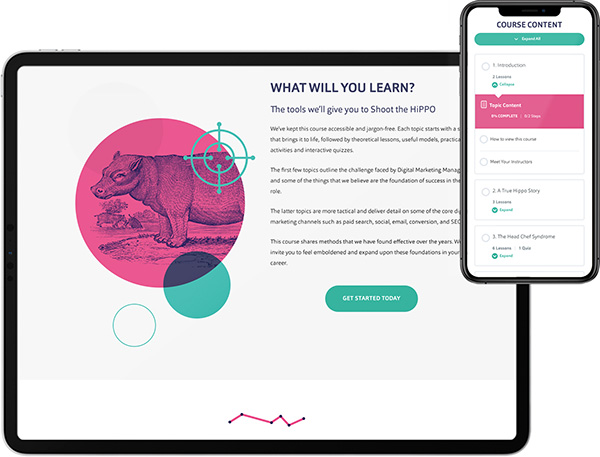 Before we put the website together, taking time to understand Shoot the HiPPO's target audience was key. It's a diverse audience, composed of people right across the board who are seeking to educate themselves and further or change their careers. As a result, we were mindful to incorporate a mix of different footprints to ensure the website is accessible to everybody.
Also, because the website is essentially an online version of a Shoot the HiPPO book that already has its own branding, graphics, colour schemes etc., we made sure that all aspects of the website design faithfully reflected the look and style of what was already on paper.
We built the website on the LearnDash platform, a WordPress LMS Plugin that is an excellent tool for creating and selling courses on the WordPress system. Although Shoot the HiPPO is presently a standalone site, expanding it or adding more courses in the future will be extremely easy.
Every year, we teach our Footprint Academy to university students. Our in-person digital marketing course helps them make the leap from academia to the real world. Coronavirus put a stop to that in 2020, so we decided to work with JMJ Web Design to create an online version of the course – meaning lots more people could take it! Working with Jason was fantastic. He talked us through every element of building our course, giving us advice on best practice and working closely with us to design exactly what we needed. The end result is a highly professional platform that incorporates all of our teaching materials, plus interactive quizzes and activities that have received great feedback from this year's (online) students. I would highly recommend working with JMJ Web Design on any such project – and will definitely be working with them again in the future!